Tag Archives: hair styles
3
Jun
The latest addition to my repertoire… easy, breezy finger coils!
Day 2… after I separated the coils…
1
Jun
This is what my hair looked like at the start of our trip: soft, loose curls… left over from the last roller set.
Then we spent the day at the beach & my soft curls morphed into a curly fro…
 We had plans to go out that night & my former look was basically destroyed, so I went into Macguyver mode. I took a shower sans shower cap, to let my hair soak up all the steam & maximize the volume. I pinned back my edges using bobby pins, then I threw some makeup on my face… I was dressed & ready to go in less than an hour *GO SHAM!!!* My brother was completely flabbergasted 🙂
We went to out for drinks at Tuscany Italian Bistro, located in Pier Park. It was fabulous & Craig is a magician behind the bar… I highly recommend!
Sunday morning I had to get my wig together for worship service. So I co-washed with Suave Professionals Almond & Shea Butter Conditioner & rinsed. Then I detangled (using my beloved Tangle Teezer), added a little bit of conditioner & EcoStyler Olive Oil Gel & finger-coiled my entire head. I let it hair dry halfway, then blew it dry with a diffuser (low heat & low speed).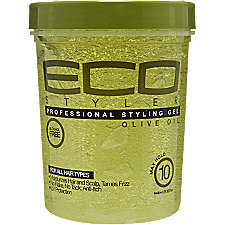 This is what it looked like…
Apparently someone told my hair we were on vacation & he wanted a break from the norm as well… LOL! (YES… my hair is MALE in gender. I call him Giovanni. It'll tell you about that some other time). I'm digging this coiled-out, curly fro…
I smell a new staple style!
7
May
This post is a continuation of yesterday's https://shamiamglam.wordpress.com/2011/05/06/its-that-time-again-hairwashing-day/…
I pulled my rollers out & put coconut oil on each section of hair. This is what it looked like @ that point… tightly curled, slightly puffy @ the root. Then I picked it out (using a wide-toothed comb) & pulled it up into a pony tail, slicked back my edges & tied a scarf around it. I left it up like that for several hours while I was house cleaning & stuff. When I set it free, it looked like this:
Although this hairdo meets standards as a curly fro, I was not going for this particular look this weekend. So, I fired up my barrel curling iron (1″ diameter by Conair) & curled my hair in sections. I used the iron to press out my wavy roots & curled my hair vertically instead of horizontally. I do this b/c my hair is cut into a lot of layers & it flips & feathers out more dramatically when I curl it this way. It's still very curly, but they're looser elongated curls with straight roots…
Normally I would stop right here, because this is the look I was going for. But now it's bedtime! So I wrapped my hair & tied it down with a silk scarf & went to sleep. This morning I combed it out & fluffed it & this it what it looks like now…
So now you're thinking "WOW SHAM! that's a lot of work"…and you're halfway right. It takes a total of about 4 hours or so to achieve this look, HOWEVER… it takes at least 4 hours to get your hair done at the salon, right? So to be productive, I just multitask & use hairwashing day to do household chores. Do you remember when a wash & set was $30? Ahhh, the good ol days! Well now they cost about $60 AND they charge more money if your hair is un-relaxed… NO BUENO! Doing your hair at home might have upfront costs (buying rollers, clips & utensils, a hair dryer & styling products), BUT it pays for itself within the first 30 days. By the way, this hairstyle lasts for 10-14 days, which is a GREAT return on my time investment. All I have to do to it is wrap (or roll) it every night. It only takes about 4 minutes to style each morning… that way I can spend more time on my MAKEUP! 
Well, I'm outta here people. Time to go see the one who gave me life! HAPPY MOTHER'S DAY 😉