This is what my hair looked like at the start of our trip: soft, loose curls… left over from the last roller set.
Then we spent the day at the beach & my soft curls morphed into a curly fro…
 We had plans to go out that night & my former look was basically destroyed, so I went into Macguyver mode. I took a shower sans shower cap, to let my hair soak up all the steam & maximize the volume. I pinned back my edges using bobby pins, then I threw some makeup on my face… I was dressed & ready to go in less than an hour *GO SHAM!!!* My brother was completely flabbergasted 🙂
We went to out for drinks at Tuscany Italian Bistro, located in Pier Park. It was fabulous & Craig is a magician behind the bar… I highly recommend!
Sunday morning I had to get my wig together for worship service. So I co-washed with Suave Professionals Almond & Shea Butter Conditioner & rinsed. Then I detangled (using my beloved Tangle Teezer), added a little bit of conditioner & EcoStyler Olive Oil Gel & finger-coiled my entire head. I let it hair dry halfway, then blew it dry with a diffuser (low heat & low speed).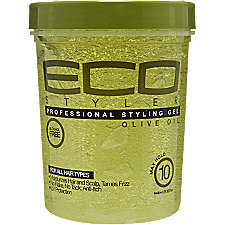 This is what it looked like…
Apparently someone told my hair we were on vacation & he wanted a break from the norm as well… LOL! (YES… my hair is MALE in gender. I call him Giovanni. It'll tell you about that some other time). I'm digging this coiled-out, curly fro…
I smell a new staple style!